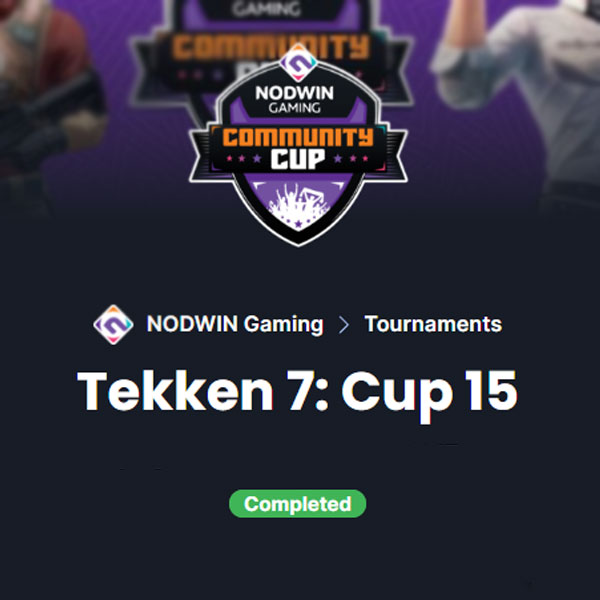 Yoshikiller (Yoshimitsu) wins the NODWIN Gaming TEKKEN 7 Community Cup #15 against Rohit Jain (Eliza/Zafina). The Grand Finals Reset victory was a familiar sight to Indian Tekken fans that watched a similar comeback victory take place in Dreamhack Hyderabad late last year between the two top players. The back-and-forth rivalry between the two saw Jain send the Yoshimitsu main to losers early in the Winners bracket.
Check out our interview with Yoshikiller here.
The event also saw strong performances from Jeonsa and A.D., who took fourth and third place, respectively. Both players had a notable victory over KnightWing, with Jeonsa also eliminating Bilas early in the Losers Bracket.
The tournament takes place three months after Community Cup #14, which was also won by Yoshikiller. Community Cup #13 was won by Grey late last year.
 Top 8 Line-up:
---
The Tekken India website is officially sponsored by Tekken Freaks, the most popular Tekken community in India. We are India's #1 online community for all Tekken-related news, events, and interviews. Here you can find Indian Tekkeners, online rankings, move lists, new updates, mods and much more.
Passionate about Tekken? Join us!
TEKKEN Freaks Discord Server:  https://discord.io/tekkenfreaks
Also, follow us on:
Twitter:  https://twitter.com/tekkenfreaks
Twitch:  https://www.twitch.tv/tekkenfreaks
Instagram:  https://www.twitch.tv/tekkenfreaks
YouTube:  https://www.youtube.com/tekkenfreaks
Facebook:  https://www.facebook.com/TEKKENFreaks
Website:  https://tekkenindia.in/
Game Store India Website:  https://gamestoreindia.com/