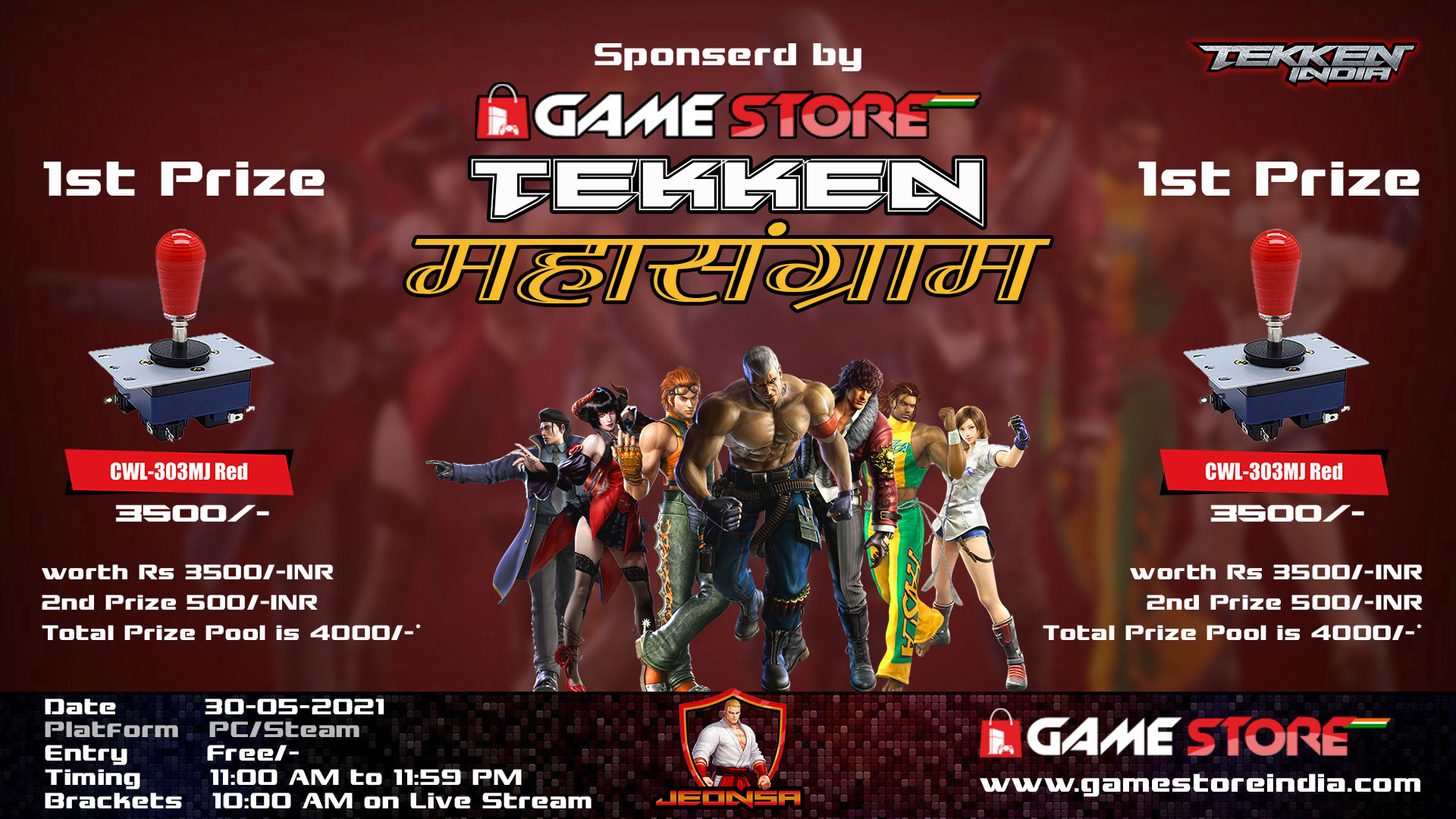 Live stream:
Jeonsa Gaming: https://www.youtube.com/channel/UC4Y_nKxJ_92T5dj4TypkJkw
Date: 30-05-2021
Registration: https://smash.gg/tournament/tekken-mahasanghram/details
Slots Capping: No Limit
For more info: 88602 99470
Discord Link: https://discord.gg/JvVbqhVc
Joining Discord is a must for Participants.
Platform: PC
Price:
1st – Samducksa CWL-303MJ Red Lever
2nd – 500 INR
Schedule
Brackets will be revealed at 10 AM, Sunday (30st May) On Live Stream
Here is the schedule for Tekken 7 Tournament :
Date 30/05/2021
All-day from 11 AM to 12 PM (You need a full day to play tournament)
Rules (Please read carefully)
1. Players must reside within India.
2. Tournament will be Double Elimination
3. Latest version of the game will be used for tournament play. Game Version: Ver 4.01 Steam
4. Connection: Wired Connection Only (WiFi not allowed)
5. Game Settings: 3/5 Rounds, 2/3 Matches, 60 Seconds
6. Winners Finals, Losers Finals, Grand Finals: 3/5 Rounds, 3/5 Matches, 60 Seconds
7. Character Customizations: Off
8. Character Preset Costumes are legal for Tournament use with the exception of the following:
Jack-7 Preset 3 & 4 cannot be used.
Gigas Preset 3 cannot be used.
9. During a Match Set, the winner of a Match must comply with the following "Winner Lock Rules": (i) during the first Match Set, each Player selects their character and the stage is selected at random; (ii) after a Match, the winner is "locked" into their character and they are not permitted to switch their character until/unless they lose a subsequent Match; (iii) all Matches are loser's choice; and (iv) a loser of a Match may rematch with the current characters and stage, a rematch with the current characters and a new stage of his or her choice, or return to character select to choose a new character and new random stage.
10. No macros or mod (frame bot mod etc)
11. If the match is lagging then admins may request participants to share screenshots of your speed test. Any player with a weak connection will be disqualified.
12. If a match desyncs in between any round then players will have to restart their match with the same round count.
13. Player can't play with multiple accounts on a single PC and Player can't share his account with another person.
14. If admins doubt any player then the player has to share his display on discord with us and we can video call you any time during the match.
15. If any player is caught breaking any rules will be disqualified or banned from taking part in tournaments permanently.
16. Your online rank must be INITIATE to play if your rank 1st dan and 0 wins. You will be DQ
NOTE :
We request all the players to play and finish their match within the time window of their respective pool. Time for completion of the pool might extend depending upon the situation, For eg: Lag, Connectivity issue, etc.
Once the bracket of any particular match is finalized, Both the players of that match have to start their game in 15 minutes.