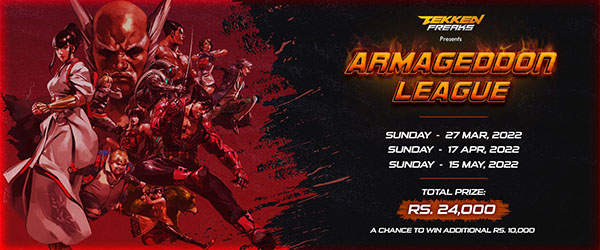 𝗧𝗘𝗞𝗞𝗘𝗡 𝗙𝗿𝗲𝗮𝗸𝘀: 𝗔𝗿𝗺𝗮𝗴𝗲𝗱𝗱𝗼𝗻 𝗟𝗲𝗮𝗴𝘂𝗲 (𝗢𝗻𝗹𝗶𝗻𝗲) in which Indian Tekken players will duke it out for supremacy.
– This tournament is for players residing in 𝗜𝗡𝗗𝗜𝗔 𝗢𝗡𝗟𝗬
– 𝗜𝘁 𝗶𝘀 𝗜𝗠𝗣𝗢𝗥𝗧𝗔𝗡𝗧 𝘁𝗼 𝗷𝗼𝗶𝗻 𝗧𝗘𝗞𝗞𝗘𝗡 𝗙𝗿𝗲𝗮𝗸𝘀 𝗗𝗶𝘀𝗰𝗼𝗿𝗱 𝘀𝗲𝗿𝘃𝗲𝗿. 𝗔𝗹𝗹 𝗶𝗻𝗳𝗼𝗿𝗺𝗮𝘁𝗶𝗼𝗻 𝗮𝗻𝗱 𝗿𝘂𝗹𝗲𝘀 𝗿𝗲𝗴𝗮𝗿𝗱𝗶𝗻𝗴 𝘁𝗵𝗲 𝘁𝗼𝘂𝗿𝗻𝗮𝗺𝗲𝗻𝘁 𝗮𝗿𝗲 𝗺𝗲𝗻𝘁𝗶𝗼𝗻𝗲𝗱 𝗶𝗻 𝘁𝗵𝗲 𝗧𝗘𝗞𝗞𝗘𝗡 𝗙𝗿𝗲𝗮𝗸𝘀 𝗗𝗶𝘀𝗰𝗼𝗿𝗱 𝘀𝗲𝗿𝘃𝗲𝗿.
Click here to JOIN: https://discord.gg/GcwWBGrf9G
– TEKKEN Freaks: Armageddon League will include 3 tournaments which will be organized in the month of March, April, May 2022 (1 Tournament each month)
– Prize money for each tournament will be as follows:
1st Prize – 𝗥𝘀.𝟱,𝟬𝟬𝟬
2nd Prize – 𝗥𝘀.𝟮,𝟬𝟬𝟬
3rd Prize – 𝗥𝘀.𝟭,𝟬𝟬𝟬
– A player who wins all the three tournaments will be awarded an additional prize of 𝗥𝘀.𝟭𝟬,𝟬𝟬𝟬
– No entry fee is required for this tournament
The registrations for The Armageddon League Tournament #2 (17th April 2022) are now open!
The last registration day for this tournament is 16/04/2022. No players will be allowed enter the tournament after the registration ends. • All participants are required to stay online after 12PM on Discord and Steam during the tournament day. • Read all the information regarding the tournament here info-and-rules Fill this Google form to register -> https://forms.gle/2Yxryn78KBMoQx7R8