Welcome to KING OF IRON FIST TOURNAMENT SNL IV EDITION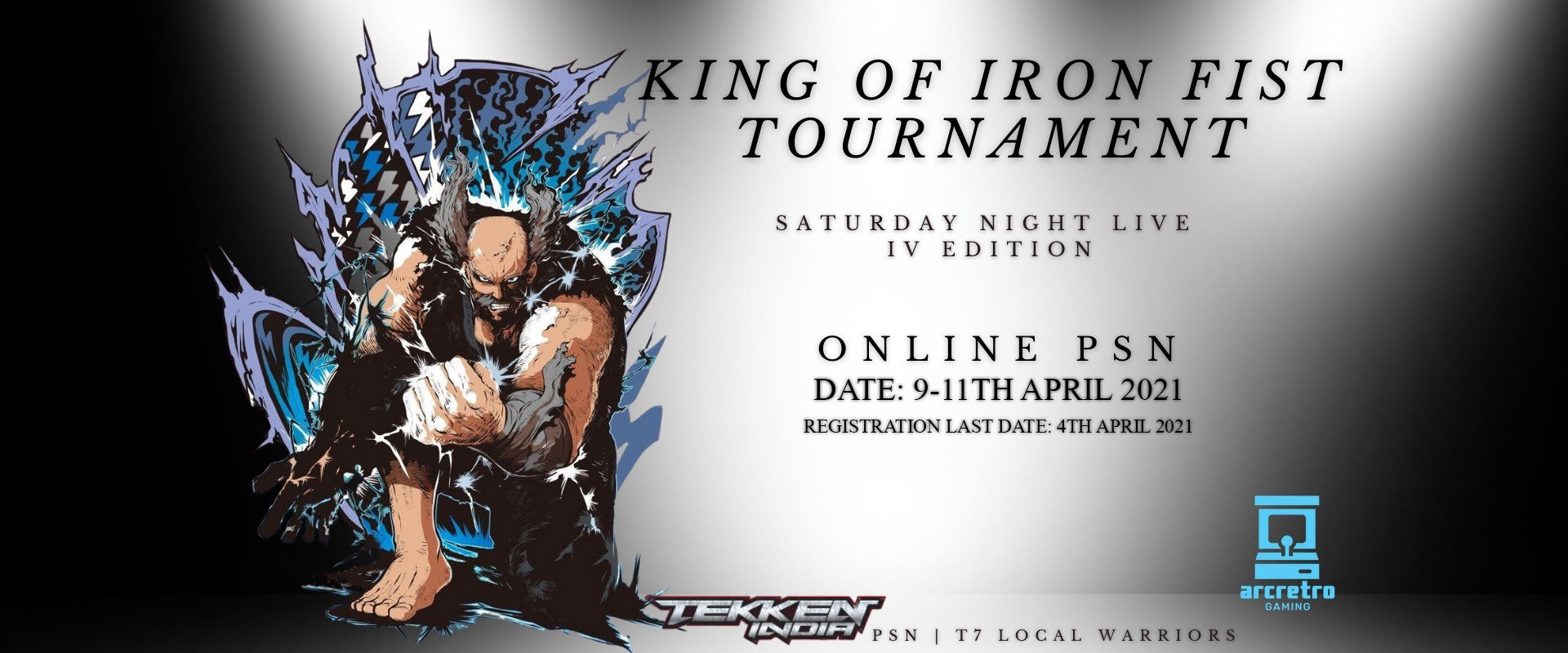 Platform: PSN
Supported by PSN INDIA&T7 Local Warriors and Organized by arcretro and Team.
Live Stream: https://www.youtube.com/c/Arcretro
Date: 9-11th April 2021.
Registration Last Date: 4th April 2021
Registration: https://smash.gg/tournament/king-of-iron-fist-tournament-snl-iv-edition
Entry Fee – INR 50 (Payable @googlepay No – 9716109563)
Slot Capping: 32
Discord: https://discord.gg/G8MFCR4zks
Joining our discord server is mandatory.
Prize Pool –INR 2000
1st Place – INR 1000
2nd Place – INR 500
Player of the Tournament – INR 300
Top 2 chatter – 100 each amazon voucher
Tournament Schedule:
Pool Matches: 9th April 2021
Loser Bracket Matches: 10th April 2021
Semi-Final, Losers Grand finals, and Grand Finals: 11th April 2021
Match Timing: 7 PM onwards
THE KING OF IRON FIST TOURNAMENT RULES (Read Carefully)
India only tournament
Online PSN
The tournament will be Double Elimination – 1v1
No character locks
Best of 3 all pool stages
Winners Finals, Losers Finals, Grand Finals: Best of 5 Matches
The first stage of the match must be selected as a random stage. The winner cannot change the character; the Loser can change the character or stage. If a character is changed then the stage must be selected as random.
No custom costume allowed. Default/Pre-set costume only. Any player found/reported using a custom costume then player will be disqualified for one match.
No participant will be allowed to play on WIFI, will be disqualified right away.
Ensure Fair Play all the time.
During a Match Set, the winner of a Match must comply with the following "Winner Lock Rules": (i) during the first Match Set, each Player selects their character and the stage is selected at random; (ii) after a Match, the winner is "locked" into their character and they are not permitted to switch their character until/unless they lose a subsequent Match; (iii) all Matches are loser's choice; and (iv) a loser of a Match may rematch with the current characters and stage, a rematch with the current characters and a new stage of his or her choice, or return to character select to choose a new character and new random stage
If the match is lagging then admins may request participants to share screenshots of your speed test. Any player with a weak connection will be disqualified.
Key Note –
If a match desyncs in between any round then players will have to restart their match with the same round count.
Only one PSN account per individual.